1992-2020 Nord Atlantic USA, Inc.






Equipment described herein require US Government authorization for export purposes. Diversion contrary to US law

is prohibited.

2019 Nord Atlantic USA Specifications are subject to change.

Check legal page here


28 years of Leadership and Business Excellence

- Serving with pride our Military and First Responders.






Elbit F4949 (AN/AVS-9)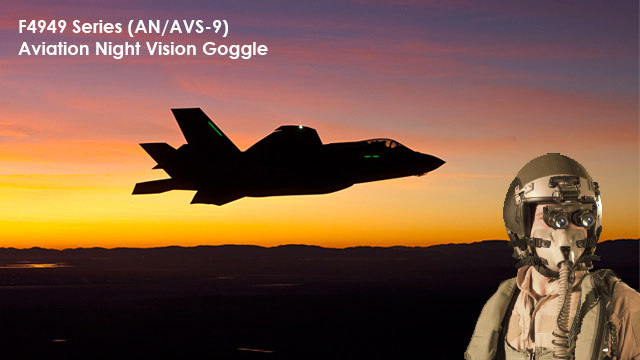 F4949 (AN/AVS-9) Aviation Night Vision Goggle $11,800.00





In the Box
ELBIT F4949 Aviation Night Vision Goggler

• Carrying case
• Lens caps
• Demist shields, sacrificial lenses
• Operator kit (manual, quick reference card, lens paper)
• Low profile battery pack


Special Price and Terms Available for Armed Forces and Federal, State or Local Government Agencies



OPTICAL SPECIFICATIONS

Field of View 40° nominal

Magnification 1X

Weight (binocular only) 550 g maximum

Dimensions 3.3 x 5.1 x 4.1 in (8.3 x 13 x 10.3 cm)

Automatic Breakaway 11 - 15g

Battery Life Nominally 30 hours (per side) under standard conditions

Battery Type Fixed wing: 2 ea. 1/2 AA size, lithium, Rotary wing: 4 ea. AA size, alkaline

Operating Temperature Range -25.6°F to 125°F (-32°C to +52°C)

Diopter Adjustment +2 to -6 diopters

Interpupillary Adjustment Independent, 52 to 72 mm total

Fore-and-Aft Adjustment 27 mm, range

Tilt Adjustment 10°, range

Exit Pupil/Eye Relief On-axis: 14 mm @ 25 mm distance, Full-field: 6 mm @ 25-mm distance

| | |
| --- | --- |
| Specifications subject to change without notice. Export of the commodities described herein is strictly prohibited without a valid export license issued by the U.S. Department of State Office of Defense Trade Controls prescribed in the International Traffic in Arms Regulation (ITAR), Title 22, Code of Federal Regulations, Parts 120-130. | |